Laundry Services Division
JOI's Laundry Division is a full service commercial laundry business that currently processes close to 6 million pounds annually.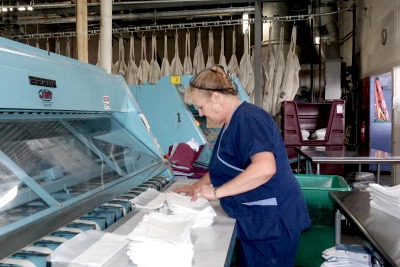 Laundry Services
Our facilities in Chula Vista and San Bernardino are ISO 9001:2015 certified and use best practices in the industry. We provide first-class laundry and linen services to the Federal Government and commercial businesses.
We've developed a high level of skills, technology and resources that are tailored to each customer's particular requirements. Your linens and uniforms are handled with a professional touch by our experienced staff who take pride in providing outstanding services.
We use geo-thermal water for the entire process to reduce consumption of natural gas and electricity resulting in zero usage of public city water in our laundry process.
Services We Provide
We offer a comprehensive list of support services to meet the needs of your organization:
Processing of customer owned goods

Flatwork and finishes

High-end hospitality linens

Healthcare linens

Food and beverage linens

Dust control linens

Emergency laundry services

Uniform services

Inventory control

Microfiber products

24 hour pick-up and delivery services
Here's What Our Customers Are Saying
I like the really fast return of items. The items come back really clean and are always organized. The right amount is always returned.
I really liked how the attendant was there to assist with the turn in of our laundry and was a delight to work with.
Contact

Administrative Services
For more information on how JOI can reduce your overhead costs and improve your organization's bottom line, please contact:
Hugo Mezamartinez – Laundry Division Manager
(619) 688-1784
Laundry Services by the NUMBERS
Pounds Processed (annually)
Gallons of Water Saved (annually)
Different Linen & Gear Items Processed