Food Services Division
For over 20 years, Job Options has provided food service support to five mess halls on the Camp Pendleton Marine Corps base.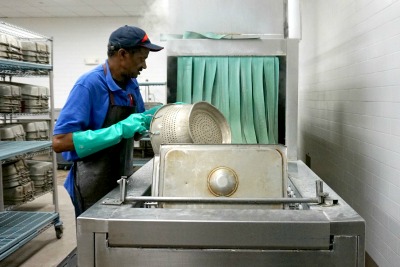 Food Services
We are ISO 9001:2015 certified and take great pride in the quality of the services we provide to our customers.
We have built a reliable, efficient team that serves over 2.7 million meals to service members annually. Our dedicated staff provides support as cashiers, line servers, dishwashers, pots and pans washers, drive-thru attendants, and also assist in set-up, replenishment, cooking and clean-up. Our employees with disabilities provide superior services and demonstrate pride and enthusiasm essential to food and hospitality services.
Job Options, in partnership with Sodexo, has received the WPT Hill Award for Best Food Service Mess Hall in the Marine Corps on three separate occasions in 2016, 2018 & 2019. The Hill Award rewards high-quality food service and recognizes the best mess halls with demonstrated leadership, culinary expertise and award winning capabilities for Marine Corps Food Service specialists. We take great pride in our employees' contributions toward obtaining this highly regarded recognition.
Services We Provide
We offer a comprehensive list of support services to meet the needs of your organization:
Food Management
Cooking

Deli preparation and sandwich assembly

Banquet set-up and breakdown

Dishwashing

Kitchen sanitizing and cleaning

Drive-thru services
Menu Planning


Baking

Salad preparation

Table service set-up, busing and cleaning


Pots and pans washing

Cashiering

Mess attendant services
For more information on how JOI can reduce your overhead costs and improve your organization's bottom line, please contact:
Mike Doiley – Food Services Division Manager
(760) 547-2480 or (619) 688-1784
Food Service by the NUMBERS