Commissary Services Division
Job Options has provided services to the Federal Government commissaries for over 30 years.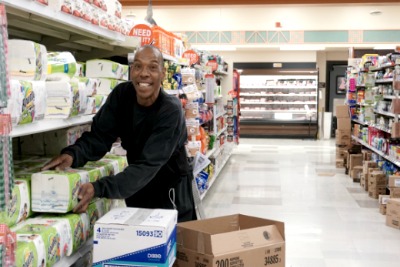 Commissary Services
Our dedicated, skilled employees perform the day and night stocking of close to 4 million cases per year at 6 commissaries throughout San Diego. We provide custodial services for a combined total of over 463,000 square feet for all 6 facilities.
Our employees take great pride in delivering quality services that include shelf-stocking, warehousing, floor care, inventory, receiving and sorting, and custodial services to ensure that the entire facility is visibly pleasing and merchandise is properly stacked and readily available for service members and their families.
We are ISO 9001:2015 certified and our expertise in the industry allows us to develop a unique approach that streamlines our processes to improve efficiency and productivity in our operations.
Services We Provide
We offer a comprehensive list of support services to meet the needs of your organization:
Shelf-stocking
Inventory
Store resets
Custodial services
Floor care
Receiving and sorting
Warehousing
Forklift operations
Contact

Commissary Services
For more information on how JOI can reduce your overhead costs and improve your organization's bottom line, please contact:
Bradley Luke Jr. – Assistant Vice President
or
Greg Bisbee – Assistant Division Manager
(619) 688-1784
Commissaries by the NUMBERS